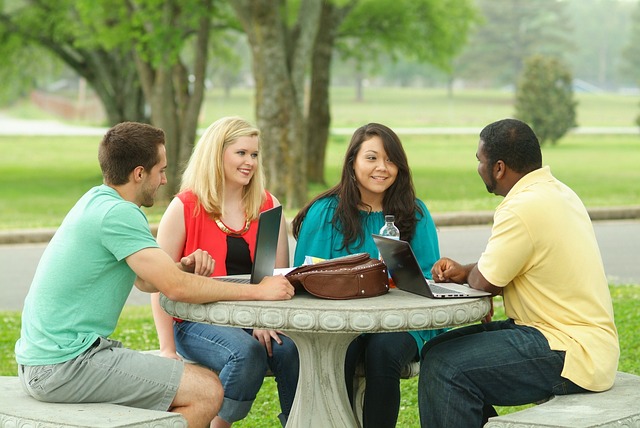 Things may be hard in a new city, especially if you don't know the language very well.  You may experience loneliness and feel homesick a lot of the time.  Don't worry too much.  These feelings lessen as time goes on, and you get used to living in a different city.  The key to feeling good in a new city is to get out and meet people.  One of the places you can go to is your local community center.  You can go there and sign up for exercise classes, tennis lessons, arts and crafts workshops, and lots more.  Coffee shops are also a good place to go to meet people.  Students like to hang out there and sometimes do their homework, and in the mornings and at lunchtime, you can meet a lot of professional people there.  You can even meet people outside.  You'd be surprised how easy it is to meet people in walking neighborhoods.  Vancouver has four really good neighborhoods where there are lots of people outside walking up and down the street. They are Granville Street, Robson Street, Commercial Drive, and West 4th Avenue.  Just sit at an inside or outside table at a coffee shop or a restaurant in one of these areas and wait to see who comes to sit at the table next to you.  Don't forget nightclubs.  Vancouver is a city with a lot of fun nightclubs.  Most of them are located in three areas of the city: Granville Street, Yaletown, and Gastown.  These three areas also have many bars, so if you can't get into a nightclub because of a long line, then you can go hang out in one of them.  If you don't like nightclubs or bars, you can meet people at a number of other places, such as a bookstore, a grocery store, or a mall.  Starting a conversation with someone you meet is a skill you can develop.  If you just be yourself and talk to the person like he/she is already a friend, you should do well.  Good luck.
Click on the audio recording below to hear the above lesson.
Vocabulary:
loneliness – a feeling of being alone
lessen – decrease, become less
get used to – become comfortable
key – most important thing
get out – go out of your home
local – in your neighborhood, near your home
sign up – register
arts and crafts – pretty things you make with your hands
hang out – stay at a place for a while
neighborhood – area of the city where people live
nightclub – a place where you dance and have alcoholic drinks
bar – a place where you go to drink alcohol and maybe have something to eat.
a number of – many
skill – something you're good at doing
develop – make better
be yourself – be like you really are
Pronunciation Exercise:  Listen and repeat the vocabulary above on the audio file below.
Conversation:  [in a coffee shop]
Ricardo:  Isn't the coffee here good?
Anne:  Yea, that's why I come here.
Ricardo:  Do you come here often?
Anne:  Almost every day.  I live in the neighborhood.
Ricardo:  Me too.  I just moved here.
Anne:  From where?
Ricardo:  Colombia.  Do you know where that is?
Anne:  Yea, it's in Central America, isn't it?
Ricardo:  Actually, it's at the top of South America, but you were close.
Anne:  I don't travel that much, but I'd like to start.
Ricardo:  Well, Colombia is a beautiful country.  You should go sometime.
© 2013 Ambien Malecot