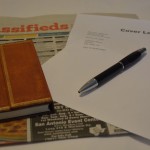 Resumes are a requirement when you're applying for most jobs.  Although there are many ways to write one, they usually have five sections: your personal contact information, your skills, your work experience, your education and training, and your interests.  A well-written resume can get you an interview and make the difference between whether you get the job or not.  Let's look at how to write each section.
At the top of your resume and centered on the page, put your first and last name.  Many people put their names in a larger size and in bold print.  Under that on two separate lines, put your complete address, including your postal code.  On the line under that put your phone number and finally your email address under that.
The next part contains your skills, abilities and areas of expertise.  Write your skills in point form, one under the other, lined up on the left side of the page.  You can also put your skills under different categories, such as General skills (for example, hard-working, reliable, organized, quick learner,) Computer skills (for example, proficient in using Microsoft Word, Outlook, Excel,) and Leadership skills (for example, president of your high school graduating class.)
The third part contains your work experience, starting with the latest one.  Again, line these up on the left side of the page.  Put the dates of these jobs (include both paid and volunteer jobs) either on the left or on the right side.  Put the name of the company that you worked for, the city it's located in and your job title.  You can also include short descriptions of the kind of work you did in each job.
The fourth part contains your education and training.  Again, start with the latest, and include your university or college and any degrees or certificates you got from them.  If you've had post-secondary education, it's not necessary to include your high school.  Also put any other training that you got, for example, a seminar on management.  Put the dates either on the left or on the right side.
The last part, which can be left out if your resume is getting too long, is your interests and hobbies.  Include things that show that you're a well-rounded person.  If the reader of your resume shares one of your interests, you are more likely to get an interview.
Resumes should be one page if possible, and be on white paper.  Use an easy-to-read font like Times New Roman or Arial at size 12.  Do not include your physical features (height, weight, or a photo), your health (including pregnancy,) the country you come from, languages you speak (unless this is important for the job you want), your marital status, your sexual orientation, your religion, your Facebook or Linkedin accounts, or your age.
There are many online sites that can help you write your resume, so find one of them and get started.  Good luck in your job search.
Click on the audio recording below to hear the above lesson.
Vocabulary
requirement:  something that is necessary
applying:  asking to get
sections:  parts
personal contact:  how to communicate with you
skills:  things you are good at doing
interview:  face to face talk
whether:  if
centered:  in the middle
bold:  dark and heavy
separate:  different
contains:  has
expertise:  things you are excellent at doing
point form:  not complete sentences, short
categories:  titles
reliable:  dependable, doing what you say you'll do
proficient in:  good at
latest:  last, most recent
degrees:  Bachelor's degree, Master's degree or Doctorate degree (PhD)
certificates:  a statement of completion
post-secondary:  after high school
seminar:  short course
left out:  not included
well-rounded:  doing or good at lots of different things
are more likely:  have a better chance
font:  lettering
pregnancy:  having a baby inside
marital status:  married, single, divorced, living with someone
sexual orientation:  straight, gay, lesbian, bisexual, or transexual
Pronunciation Exercise:  Listen and repeat the vocabulary above on the audio file below.
© 2014 Ambien Malecot