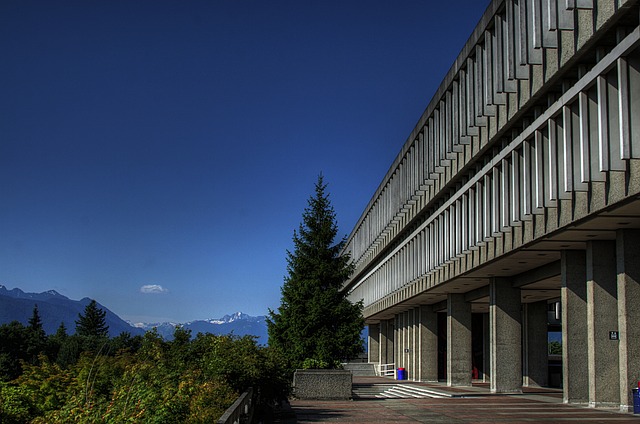 Simon Fraser University, located near Vancouver, British Columbia, has been one of Canada's top universities for the past twenty years.  I went there myself in the early 1970s to get my teaching credentials so I could teach in the public school system.  The Times Higher Education world rankings of 100 universities ranks Simon Fraser University 2nd in Canada and 30th in the world.  The university, named after the famous explorer Simon Fraser, opened its doors in 1965 to 2500 students.  It has grown a lot since then.  Now it is a university known for its excellence and innovation in academic programs.  It also has a reputation for excellence in research.  It is a public university with half of its funding coming from the government.  There are eight faculties:  the Faculty of Applied Science, the Faculty of Arts and Social Sciences, the Beedie School of Business, the Faculty of Communication, Art and Technology, the Faculty of Education, the Faculty of Environment, the Faculty of Health Sciences, and the Faculty of Science.  There are almost 30,000 undergraduates, half of whom are full-time students.  The university has 946 faculty members and 3403 staff members.  Seventeen percent of the undergraduate student population is international students from China, South Korea, and other countries around the world.  International students are about 20% of the graduate student population, but are more highly represented in science and technology areas.  Simon Fraser University is on three different campuses.  The main campus is on the top of Burnaby Mountain, about 20 km. east of downtown Vancouver.  This campus has won many awards for its architecture.  A second campus is located in downtown Vancouver.  When SFU opened this campus in the 1980s, it was the first urban university classroom in British Columbia.  Now this campus has four buildings in the downtown core and serves 10,000 students.  The most recent SFU campus was opened in Surrey, a quickly growing suburb of Vancouver.  The student newspaper, The Peak, is distributed to all three campuses.  The school also has a radio station, CJSF-FM, at 90.1 FM or online at: www.cjsf.ca.  The newspaper and radio station are an excellent way to learn about what's happening on campus.  Finally, there are over a hundred clubs on campus and many events for students to enjoy.  Simon Fraser University is an experience that any international student will benefit from and remember for the rest of their life.
Click on the audio recording below to hear the lesson.
Vocabulary:
top – best
credentials – educational requirements
rankings – list of best to worst
explorer – someone who discovers new places
innovation – introducing something new or different
academic – higher education
reputation – what others think of you
research – investigation into a subject
public – belonging to everybody
funding – money to operate
faculties – departments of learning
undergraduates – students before they graduate
faculty members – professors
staff members – people who work there but who aren't professors
graduate – students who already have a bachelor's degree
highly represented – a larger percentage (more than 20%)
campus – buildings and grounds of a university
architecture – the style of buildings
urban – city
core – area
suburb – district immediately outside a city
distributed – sent
event – something that happens
benefit – get success
Pronunciation Exercise:  Listen and repeat the above vocabulary on the audio file below.
© 2014 Ambien Malecot