Lecture (Level 1) – Where is home?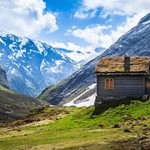 by Pico Iyer
a British-born essayist and novelist of Indian origin.  He is best known for his travel writing.  He is also an essayist who has been writing for Time magazine since 1986.  He also publishes regularly in Harper's, The New York Review of Books and The New York Times.

First, preview the vocabulary below.  Then click the exercise  below,  read a question and then listening for the answer.  When you hear the answer, pause the video and answer the question.  Then read the next question and do the same thing.
Your Score:
Your Ranking:
Vocabulary:
raised: grew up
classic: traditional
alien: foreigner
straightforward: simple, not complicated
associated with: connected to
stained-glass: lots of pieces
it came home to me: I realized
wildfire: a fire out of control
ash: what's left after a fire
literally: actually
sense of: idea about
fashion: make, create
beyond: outside of
tribe: group of people
consists of: is composed of
exhilarating: exciting
typical: common
kin: family
evolving: changing
unprecedented: happening for the first time
blend: mix
rooted in: identified with
bearings: understanding
accumulated: gathered, gotten
perspective: understanding
skeptical: not believing
intrigued: really interested
hemmed and hawed: didn't know what to say
hymnals: religious songs
assured: promised
restless: not able to sit still
pulsing: full of energy
eminently: very
profoundly: strongly
consult: ask
monks: religious people
critical: most important
blindfold: covering over the eyes
hankers: really wants
ultimately: in the end
© 2014 Ambien Malecot