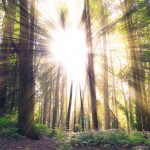 by Elvis Presley
an American singer and actor (1935 – 1977), regarded as one of the most significant cultural icons of the 20th century.  He is often referred to as the "King of Rock and Roll."  This song was written by Walter Earl Brown for the grand finale on NBC's Comeback Special "Elvis," which aired in June, 1968.  Although Elvis didn't write the song, it reflected his discouragement over the assassinations of Dr. Martin Luther King, Jr. and Robert F. Kennedy.

There must be lights burning brighter somewhere
Got to be birds flying higher in a sky more blue
If I can dream of a better land
Where all my brothers walk hand in hand
Tell me why, oh why, oh why can't my dream come true
Oh why?
There must be peace and understanding sometime
Strong winds of promise that will blow away the doubt and fear
If I can dream of a warmer sun
Where hope keeps shining on everyone
Tell me why, oh why, oh why won't that sun appear
We're lost in a cloud
With too much rain
We're trapped in a world
That's troubled with pain
But as long as a man
Has the strength to dream
He can redeem his soul and fly
Deep in my heart there's a trembling question
Still I am sure that the answer's (answer's) gonna come somehow
Out there in the dark, there's a beckoning candle, yeah
And while I can think, while I can talk
While I can stand, while I can walk
While I can dream, please let my dream
Come true, right now
Let it come true right now
Oh yeah
Vocabulary:
got to:  there's got to
strong winds:  a large movement for change
doubt:  disbelief
warmer sun:  better time
cloud:   a place where we can't see
rain:  bad things happening
trapped:  unable to escape
as long as:  while
redeem his soul:  make things right with himself
trembling:  frightening
gonna:  going to
somehow:  in some way
beckoning:  attracting, inviting
© 2015 Ambien Malecot for vocabulary lesson only