Lecture (Level 2) – You have no idea where camels really come from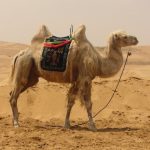 by Latif Nasser
an historian who got his PhD at Harvard in the history of science. He is Director of Research at Radiolab, a radio program produced by WNYC, a public radio station in New York City. The show is available as a podcast and focuses on topics of a scientific and philosophical nature.

First, preview the vocabulary below.  Then click the exercise below, read a question and then listen for the answer.  When you hear the answer, pause the video and answer the question.  Then read the next question and do the same thing.  If you get the answer wrong, then go back to where the answer is given and listen again.
Your Score:
Your Ranking:
Vocabulary:
remote:  far away from any town
fossil:  the remains of very old animals and plants
prehistoric:  before history
fragments:  small pieces
virtually:  using a computer
skulls:  head bones
species:  kinds of animals
snouts:  noses
extinct:  all dead
blizzards:  snow storms with strong winds
evolved:  changed over a long time
dynamic:  always changing