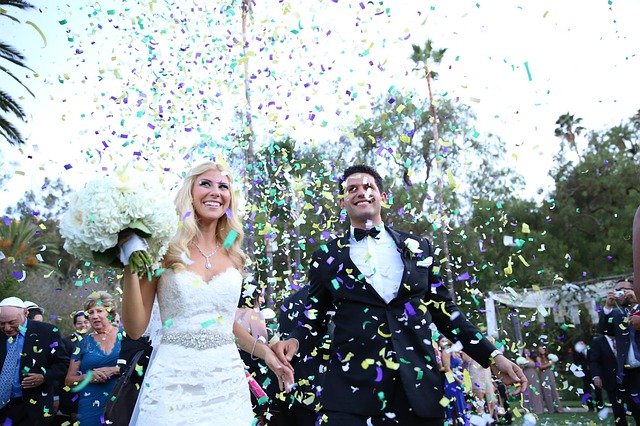 Conversation:
Mary:  Hi Julie.  What's up?  You look tired.
Julie:  I got up early this morning to put together this new bicycle that I'm giving to Jamie for his birthday.
Mary:  Oh, that's sweet of you.  I'm sure he'll like it.  Listen, the reason I stopped by is to ask you to come shopping and help me pick out something to wear to John and Susan's wedding.
Julie:  I thought they broke up, and the wedding was called off.
Mary:  That's right, but they made up yesterday, and the wedding is on again.  I heard they cried so much, they used up a whole box of tissue.
Julie:  Is that so?  You know, all of a sudden, I want to go shopping too.  I have nothing to wear either.
Mary:  Let me help you clean up and put away these tools.
Julie:  Thanks.  You know, it'll be fun to dress up for this wedding.  I like wearing nice clothes.
Vocabulary:
• sweet:  nice
• wedding:  marriage ceremony
• on:  happening
• tissue:  soft paper used on the face
• so:  true
• tools:  instruments used to put something together, like pliers and screw drivers
Idioms:
what's up                  what's happening
put together             build out of parts
stop by                        visit (someone) informally
pick out                      choose
break up (with)      end (a relationship, meeting)
make up                     become friendly after a fight or argument / create (a story)
use up                         use completely, have no more
all of a sudden       without warning, suddenly
put away                   return (something) to its proper place
dress up                    put on good clothes
Notes:
Stop by and drop by have the same meaning.
Break up is followed by with if an object is used.
Example:  Paul broke up with Judy.
Break up is never followed by with when it means "end a meeting."
Example:  The meeting broke up at 8:00.
Make up has two meanings.  The second meaning is "create (a story)"
Example:  Johnny didn't do his homework again, so he had to make up an excuse.
All of a sudden and all at once have the same meaning.
Your Score:
Your Ranking:
Your Score:
Your Ranking:
© 2004 Ambien Malecot